Albion Online Guide - Surviving Alone In The Black Zones
upalbion
Date: Aug/16/17 22:58:47
Views: 4931
Albion Online is a community oriented game. Still, some players prefer to take advantage of the Sandbox Interactive game alone. The black zones are the most dangerous areas of the game, so it is not advisable to venture alone and without guild. There are still some methods and precautions that will allow you to survive, not without risk.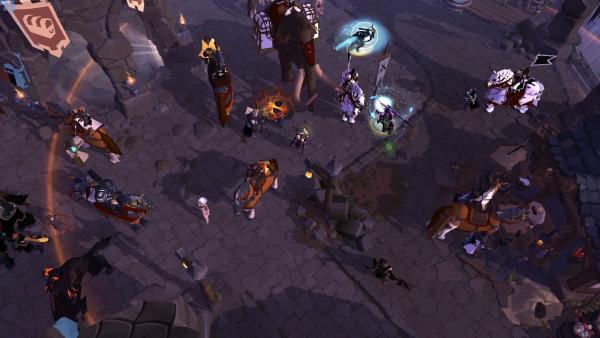 What is Black Zone?
The black areas are the three large continents north of the royal continent, the continent of departure of the players. These areas are accessible only from an immense gate situated to the north-west of the town of Caerleon, in the city. When you enter this portal, you can select several destination points, each color corresponding to a continent: green for Anglia, yellow for Cumbria and red for Mercia. You can return to the city by borrowing the same portal or any one located in black zone.
It should be noted that when you return from the black zone, you will be associated with the portal you used to return for ten minutes. This means that for ten minutes you will only be able to go to the last portal used to enter the black zone (exit can be done through any portal). Moreover, you will be associated with the continent by which you have returned for two hours, so be careful when you set foot in a territory in black zone, do not regret to be blocked for two hours on the destination chosen.
Prepare your journey in the Black Zone
Before you go to these territories, you have to know something important. Each resource you find there will be a third or more. Therefore, there is no need to go to these places without having at least a Tier 3 tool available and the ability to use it, otherwise your travels will be just dangerous and not lucrative. Also provide equipment that will allow you to escape easily, with invisibility or dashes.
Black areas are places where everyone is hostile, therefore you have no protection, every person you meet will be an enemy and be sure that every enemy you encounter will try to land you to recover the loot on Your corpse. Therefore, it is best to come up with a little expensive equipment, which you can afford to lose, depending on your financial capabilities of course. Also, we advise you to use a mount that you can replace, but especially the fastest you can find, preferably with the most possible hit points, to escape quickly.
You should also stay near the war camps, places that guilds must control to attack their opponents. In each of these camps is a chest where you can deposit your crops or precious objects. Therefore if you return there regularly you will die with a minimum of resources on you and your work will not have served any purpose. Think about checking out when the camp will be unblocked so that you do not risk taking the entire guild on your head when it can be activated.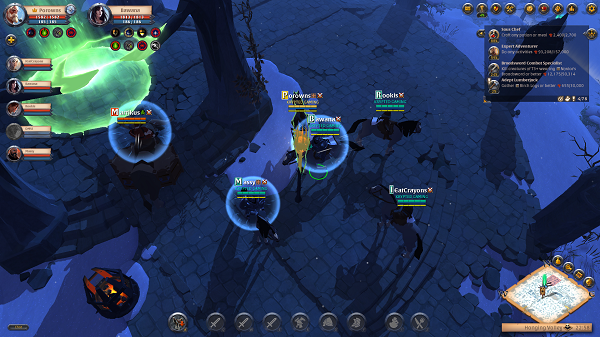 In the maps, it is advisable not to use the roads to travel, in this way you avoid the big groups who want to move especially quickly and your meetings will probably be other collectors, like you. Staying near the edges guarantees a slightly higher level of safety, even if it is also possible to fall into a cut-throat in the middle of a forest. It is necessary to know where you are heading, think of opening your card regularly so you do not get trapped.
When you get down from the mount to harvest your resources, be sure to stay close to it and be responsive in the event of an attack. By staying close to your mount you will be able to climb on your horse quickly in case of attack and instantly put distance between you and your attackers. In this way, you will have plenty of time to escape to a military camp or gate to Caerleon and take advantage of your passage.
It should also be noted that, in general, mobility in the black zone will always have to be favored. Whenever you encounter an opponent in a guild or alliance, the guild or alliance will likely announce that a harvester is dragging on a particular card. If you are lucky the guild will not have to do it, but sometimes it will happen that this one sends a small contingent to come pick you. Stay in motion, if you change the map or area on the map, the terrain to cover for enemies that cross you becomes much more important and you will become more easily a ghost.
If you want to earn fame in the black zone, you can attack the solo dungeons, symbolized by a green opening on the map. These dungeons are feasible alone and bring good reputation although cleaning them alone takes some time. These are relatively uncrowded places as guild players will prefer to visit several dungeons that earn astronomical fame in a short time. We must nevertheless be careful: let's say that you are dying in front of a monster and that an enemy comes in at this moment, he can quietly put the coup de grace before you plunder. Prudence is in order.
Finally, remember, under all conditions, that the equipment is a consumable in Albion Online. Yes, you have lost equipment to several million coins! It's unfortunate, but that's how you'll get back the money and you'll get back to that piece of equipment. One should never despair at the loss of an equipment and see it as if it were a simple potion of life.