Albion Online: Nine Guilds You Can Join Now
upalbion
Date: Jul/25/17 02:30:22
Views: 2623
Guild is an important part of the new Albion Online. To help players find out the group that supporting their gaming style, the official site choose three different guild type for new players to join: Casual, Semi-hardcore, Hardcore. Each type has three representative guilds.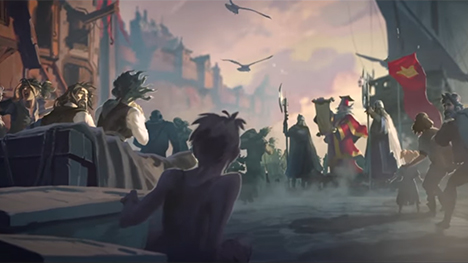 Casual, Social and Hybrid Guilds

It's an English guild focus on Social, Warfare and Competitive.
"GoodFellas is a highly organized guild, which was founded in early 2017 by experienced Albion players. Our community is social with a friendly and helpful atmosphere. We offer you a mature and competitive environment with really good mix of experience, talent and new energy," Kutweer, the Guild Leader said, "GoodFellas is taking part in every aspect the game has to offer. We need all kind of artisans to upkeep our rearmament and all kind of soldiers to fill our units. We are going to crawl through every dungeon and raid that we can find in the lands of Albion and we are going to roam the open world to find some good PvP action."
Mugged

It's an EU guild about Casual, Black Zone, Competitive, PvE and PvP.
RejectedGoose, the Guild Leader stated, "Mugged is a small, competitive, casual, black zone guild based in Caerleon. We try to let our members do what they love; You want to manipulate the stock market? Go ahead! Your glowing weapon thirsts for gatherers? Awesome! You enjoy riding on that pretty ox all day? Poor ox. We're trying to support our members, while we are keeping our hands dirty, with a fun, light and exciting atmosphere." The website of guild is still under construction.

It's a Global guild mainly about Hardcore & Casual, Economy, Crafting, Gathering, PvE, PvP, GvG, New-Player Friendly.
The Guild Leader is TellTales. "Tears of Morgana is a newly-established guild that freshly appeared on the Albion scene just prior to the release. Focused on time-efficiency and aiming for cutting edge progression, the guild is encompassed with a social, talented and multinational community that sets us different from the rest due to our non-elitist attitude and friendly, supportive atmosphere that surrounds the guild, both in and out of the game. There once existed a significant gap between the main dominating guilds and all the others during the Albion Beta; thus Tears of Morgana collectively shares a genuine interest in closing what was an ever-growing division in hope for a healthy, balanced and competitive (friendly, of course!) future. Tears of Morgana could be your new home - where passion for progressive gaming exists."
Semi-Hardcore Guilds

It's a Brazilian/Portuguese guild and it's a place for players who are interested in PvP and PvX.
According to Shesius, the Guild Leader, 'Honor n Glory was created in the Beta of Albion Online and was born from the will of a group of players that had the vision to create a healthy, strong, and united Brazilian community. The guild went through a lot of changes and survived good and bad times. As of now, Honor n Glory is back. Completely reborn, restructured, and ready but with the same original purpose of being a competitive guild and a reference for the Portuguese-speaking community!"

An EU/NA guild for Semi-Hardcore, PvP and PVE.
Guild Leader xOrgy explained, "Infinite has been around in Albion for nearly three years now and since our beginnings we have grown in numbers. We took part in every single Beta and found a lot of good members throughout our journey. We learned valuable lessons and gained a lot of important experience. Even while we are a quite laid-back guild, we want to keep it competitive. However, we define the quality of our members through their personality and not their skills. We would always pass on a highly skilled player that is a jerk and take the average skilled player with a much better personality as we believe that skill is something that can be taught. Playing together as a team with quality people is what will bring closer on the way to reach our goals."
TIER8

A Semi-Hardcore EU guild mainly focus on Caerleon, Black Zone, PvP, GvG and HG.
The Guild Leader is Brute. "An active, friendly and semi-hardcore-progressive guild is what TIER8 stands for. Working together to attain a greater goal, progressively working our way through the harder content is what it's all about. With a vision for PvP and a healthy dose for PvE we are a guild for any and all," he said, "TIER8 reaches back till the first Beta of Albion, where we first spread across the land in ever growing numbers. And we continue to do so until this day; sporting healthy numbers and active adventuring. We truly are a guild for all." The website is not ready.
Hardcore Guilds

It's an English guild good at Commerce, Warfare and Diplomacy.
"Founded by experienced alpha players, the Iron Bank is on track to be the strongest financial institution in all of Albion. Our core strength comes from embracing the innovative and competitive freedoms of Capitalism; something that Communism can't match. In a corporate infrastructure ruled by meritocracy, the Iron Bank, with 200+ international players, operates as an economic powerhouse propelled by diplomacy and supported by experienced lethal combatants. Our coin will do the talking, and our iron grip will do the rest," according to the Guild Leader, Sharka.
Team Casualty

A Hardcore NA guild that for players who like Blackzone PVP. It's New-Player Friendly.
TheWittleGuy, Co-Leader - "Team Casualty prides ourselves on taking anyone and turning them into strong PvP warriors. TC started out as a ten-man yellow-zone guild, so we understand the struggles of trying to learn and progress. We then rose from the yellow zones and began our journey to the black zones. but got destroyed in our first GvG fight. That one GvG inspired us, stuck with us… and turned us into the strong guild we are today. We have now combined our excellent Open World PvP with our close friends "Core" and their amazing GvG teams. We've also joined a powerhouse alliance lead by Echo of Silence. Our hard work and dedication paid off… and has sealed our place as one of the top guilds in Albion Online."

It's an Organized Hardcore International guild good at Black Zone, PvP, GvG and HG.
Vocadin, Guild Leader, "The Fleet is a guild consisting of hardcore players who intent to not only master the mechanics within a game but also the theories behind those mechanics. This means, if we aren't in game we are theory-crafting, crunching numbers, trying to find any gaps where min / max is possible, or creating spreadsheets. We highly value organization as well as communication within our guild. We want all of our members to be happy and we want all of them to see that following the clear path of understanding will lead to the much better results than blindly stumbling into things. All decisions are discussed with all all of our members, including our recruits, to make sure everyone is on the same page about which way to go and where to focus."
Which guild caught your attention? Learn more about it pick one to join.