The Survey Of Albion Online: The Final Beta
upalbion
Date: Nov/24/16 11:44:04
Views: 1115
We sent out a survey, which is targeted at some user who has experienced the Final Beta so far. There are the results. According to the survey, the clearly and directly aim was to gather your feedback with respect to the currenct state of the game, nevertheless, at the same time, including forthcoming features.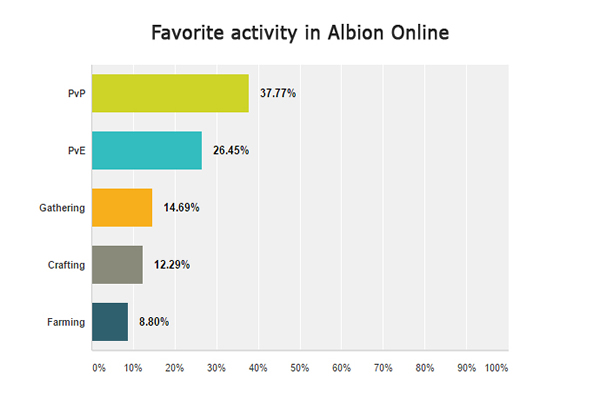 You have massively responded! Over 7,000 of you completed the survey, and here is what you had to say. Out of all participants, more than 50% own a Veteran Founder's Pack, 30% have a Legendary Founder's Pack and the rest owns an Epic Founder's Pack. When it comes to playtime, 34% played over 50 hours and nearly 75% played more than 10 hours in Final Beta alone.
You are also very guild-oriented, with two-thirds of the participants being in a guild and a stunning 41% considering their guild a rather competitive one. Only 9% had no interest in joining a guild at all. But what about player activity? Roughly a third of you still play regularly, meaning you log in at least once every two days.
For your favorite activities in Albion Online, it's undeniably to that we were extremely interested in it. A majority of 38% stated that they are enjoying PvP the most, along with PvE following at around 26%. Speaking of PvP, among of them, 72% have been attempt to seeking for PvP or its futher plan. The remaining 28% have to defend themselves against their will, in other word, they have been never expected to enaged in any PvP activities at all.