A New Interview To The Development Part Of Albion Online
upalbion
Date: Apr/24/17 22:57:23
Views: 1255
Albion Online is making its way before its release scheduled for July 17th. From updating to updating, it continues to rally Founders and confirms its know-how in an already large market. According to an interview with Albion Online developer, Christoph, the upcoming sandbox MMORPG would stand out as the development of the game very closely. Here are a few questions concluding from the talk.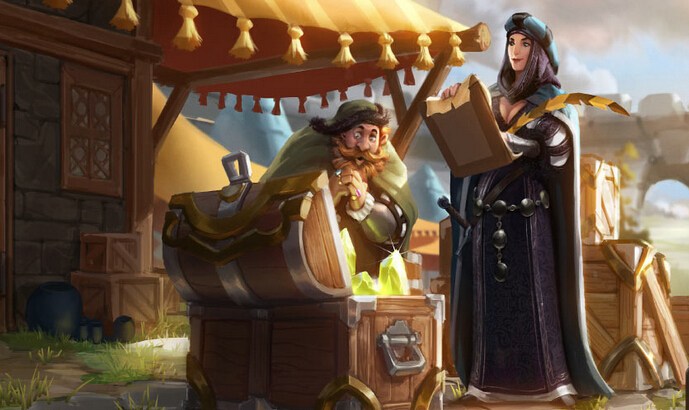 Q1: Hi, you represent the development part of Albion Online, today, for this interview. Can you introduce yourself in a few words?
A1: Hello! My name is Christoph, I take care of all communication for Albion Online. Community management, social networks, public relations etc. If it's to deal with comm 'or articles, chances are I'm involved. I have been working with Sandbox Interactive for more than a year and a half and I am delighted to see all the players from all over the world come together to play our game. It has always amused me to see how French players are excited and passionate.
Q2: Okay, so I guess you had to follow the development of the game very closely. Can you tell us what makes Albion Online so unique and different from the competition?
A2: Your equipment defines what you can do in game and you can easily juggle with these. In addition to this, fighting is of particular importance. The control of the territories is played in a kind of MOBA in 5 against 5, contrary to the system that one can see in other MMORPG which privileges the team with the most players.
Q3: Is it accessible to all or restricted to seasoned players?
A3: Naturally, we want the game to be accessible to as many players as possible. But the essence of the game is hardcore and oriented "group game". However, there are different activities for all kinds of players. It goes from quiet farming, to group PVE-PVP a little more eventful.
Q4: What do you think of the "casualization" of new games, and how does Albion Online position itself in this context?
A4: Personally, I think the boundary between the "casual" and the hardcore is not as clear as it should be. There must be different activities for all types of players, for regular gamers, such as newcomers. But in general, Albion is of the punitive kind, with certainly a high difficulty, but devoid of a very generous reward system.
Q5: What were your sources of inspiration for the game mechanics?
A5: We drew our inspirations in the classics: Ultima Online, Dark Age of Camelot, EVE, Runescape, as well as in all good MOBAs, for team clashes.
Q6: What was the most complex aspect of the game to develop?
A6: The economy of the game was a rather interesting challenge. The most complex part was the balancing of all systems. Since each thing influences another and we have an economic system run by the players themselves, it is crucial that every detail works as it should. And whenever a new change occurs, such as the new black market, for example), we work hard to incorporate it and balance it all.
Q7: An anecdote to share?
A7: Robin Henkys, the director of the game, secretly loves all the same ones that are made in his image. He likes it so much that he publishes them on his Facebook page.
Q8: What do you like most about Albion Online?
A8: In most other MMORPGs, what I like most is the economic system. And as Albion offers great freedom on this side, I am content with it. Crafter, sell, make money. It's all me.
Q9: What did you expect to keep Albion Online alive?
A9: We consider Albion Online as a "soft" subscription. You have to shell out only if you want to get involved in the game in a competitive manner. Therefore, it is more important for us to have a compelling game that people can enjoy for a long time. Then, what we will consider is a little more visual content (appearances, fantasies etc.). But the priority is the game itself.
Albion Online is already available on the official website and will officially release in July 17 on Android, PC, Mac and Linux. You can find a whole lot of guides of the game on UPAlbion.